The Swedish multi-national furniture company – IKEA claims to offer huge savings to the average cost of a family funeral with the introduction of a new plywood flat pack coffin. Their new self-assembly coffin arrives in 12 'ready to assemble' components and can easily be assembled in 'less than 1 hour' by bereaving relatives.
'I found it really helped to take my mind of matters' said grieving Malcolm Baker, 25 (grandson of the deceased). 'I felt tearful when I began opening the flat pack packaging and slowly started to work out what needed to be done. But once I got started, by the second hour I was shouting and swearing and kicking the tools around the living room. 'When the coffin was eventually placed into the ground, it broke into pieces and our grandmother's limbs fell out'
Other families welcome the massive financial saving that the flat pack coffin delivered. 'We hoped to save money buying a casket for our grandfather because he wasn't liked much by the family' said Nellie Williams, 32 from Cardiff. 'We made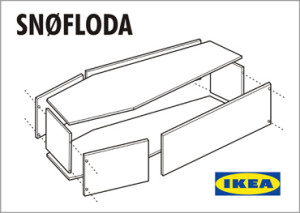 him build the flat pack himself before he died. It actually took him 2.5 days to assemble it. On reflection though, we think it may have been that what made him croak.
SATIRE – Original Posting by "www.NEWSBISCUIT.com".