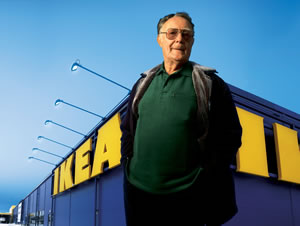 The IKEA catalogue is more distributed than the Bible. In southern Sweden, you will find the New Testament right alongside the IKEA catalogue when you stay in a hotel. This is seen when going into the home of Europeans, with IKEA furniture scattered everywhere. Of course, sales of IKEA furniture expand far beyond the European countries. More than 44 countries have contributed to £27.6billion in revenue for the company.
Even with all the money flowing in and the money in the bank, the owner of IKEA, Ingvar Kamprad, is not one to live the expensive lifestyle. In fact, as the aging billionaire is turning 87, he is not even having a birthday party as he feels it is an extravagance.
While CEOs race around the globe in private jets going on elaborate vacations, Kamprad is happier flying economy class on a budget airline. To drive the point home, he was recently awarded as Businessman of the Year and was denied entrance to the event because he arrived on the bus. He lets everyone know in his memoir Testament of a Furniture Dealer, "We don't need flashy cars, impressive titles, uniforms or other status symbols. We rely on our strength and our will!"
Of course, living frugally was not always Kamprad's forte he has adopted it as his own. The Porsche has been passed in for an old Volvo. The bespoke suits have been traded in for shabby jackets. Even with a modest house in Switzerland (for tax reasons), he still owns the large country estate in Sweden and the vineyard in Provence.
Maintaining the image of a flawed human being with problems like alcoholism, though his assistant has only ever seen him drunk once, has allowed Kamprad to come back from a near disaster when his association with a less than acceptable pro-fascist New Sweden Movement in 1942. He has since been forgiven for what he dubs the "greatest mistake of my life". He even received a letter from the IKEA family saying they were there when he needed them.