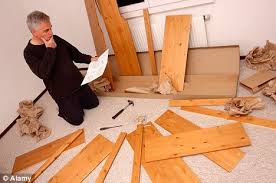 Flat pack assembly made easy!
In recent years the furniture we buy is more and more often supplied "flat packed". Many of the popular homeware companies offer affordable, attractive furniture with the promise of "easy assembly".
However, we all know that it's only easy when you know how – and more often than not, we don't! The situation is not helped by missing parts, diagrams that need a degree in engineering to decipher, mystery holes… or lack of them! Frustration often results in damage and ultimately, it's all too much hassle. Most of us at some point must have thought: "If only there was another way!".
Now there is. It's affordable quick and convenient and it's local to you. The Flat Pack Construction Company offers free quotations and employs friendly and professional technicians. Recommended by GLTC, Dreams and Bensons for Beds, this flat pack assembly service are mobile and fully equipped to wake you from your flat pack nightmare! And of course, they have the tools for the job so there's no need for repeat visits to the hardware store to buy those one-off tools which you will probably never use again!
As well as flat pack assembly, The Flat Pack Construction Company specialise in those DIY projects that aren't as easy as they sound – putting up shelf units, mirrors and curtain rails; in fact, all those tiresome jobs about the house that you keep putting off…
www.flatpackconstruction.co.uk